The Sims 4 Backyard Stuff Pack is expected to release on July 19th. Here is a recap of all of the new features from yesterday's live stream!
Live Stream Recap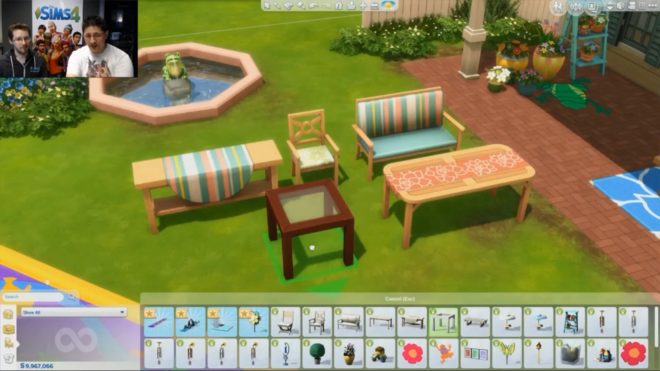 You can decorate the socializing area in your backyard with new wooden chairs and tables. Each of these objects are decked out with bright pastel colored patterns that match the designs of other objects, like the new outdoor rugs and wall decals.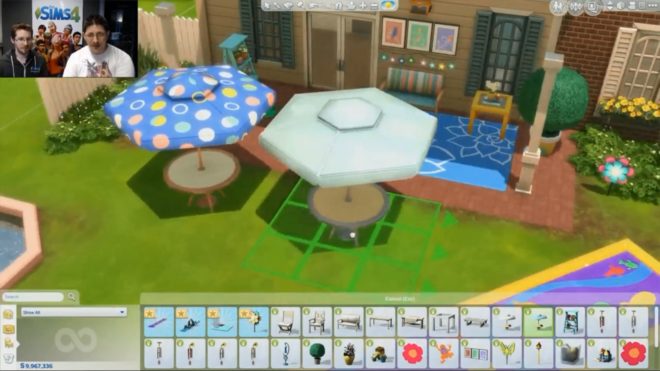 The major new addition when it comes to dining, are the new umbrella tables that can seat a family of six. The first is the "Perfectly Patterned Large Umbrella Table," which comes with a splash of fun and bright colors. The other is the "Voyeuristic Large Umbrella Table," which as the name suggests, comes with a transparent umbrella.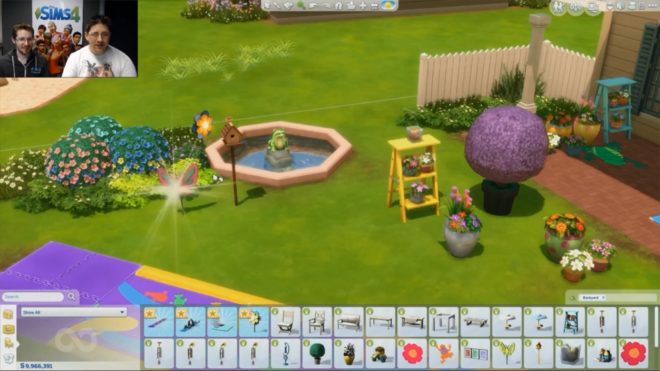 The stuff pack offers a variety of decorations from potted plants, to bird houses, and even a frog fountain. As mentioned earlier, you can decorate your house with new wall decals with patterns meant to match the tables and chairs.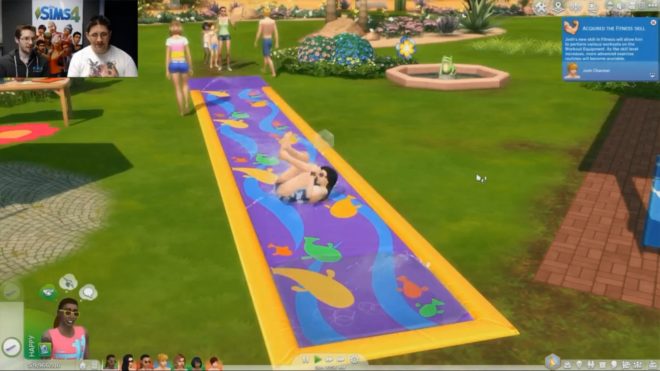 Obviously the Water Slide is the main highlight of the Backyard Stuff Pack. It's a new interactive object where sims line up to slide down a sheet of water.  Sims may either slide down normally, or perform various tricks along the way. For example, they can slide on their bellies, slide from a somersault, slide spinning around on their backs, or do a sexy pose.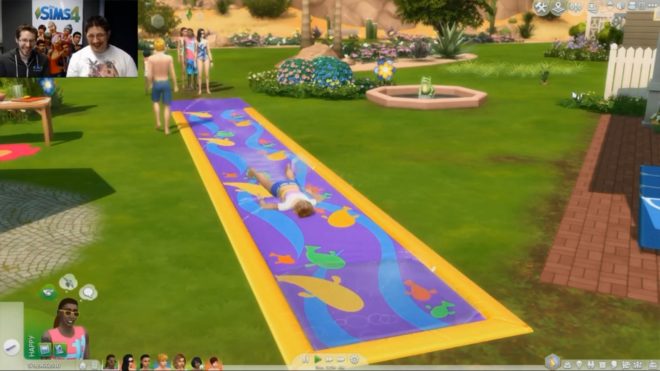 Fitness and Motor skills will determine how successful a Sim is when sliding down. Use of this object will also help a Sim gain those skills.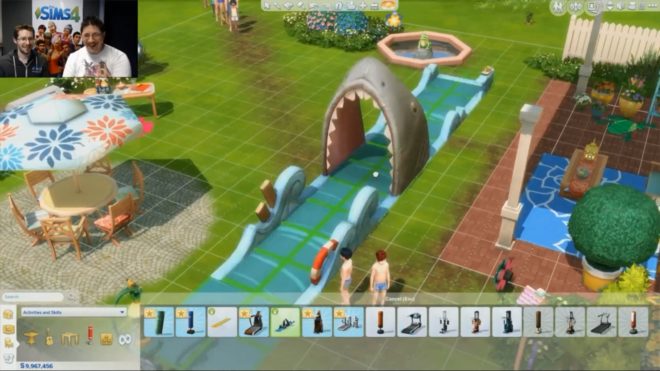 Another water slide included in this pack is the terrifying "Jaws of Death." You may add soap to both this and the other water slide to see bubbles form as your Sim slides through the water. The soap doesn't last too long, but if you're really in a hurry, they mentioned you can rinse them off by dipping into a pool.
The bird feeder is another interactive object which has a one in seven chance of a bird attacking the player. Cardinals, Blue Jays, and Finches are among the birds you can expect to see visiting the feeder.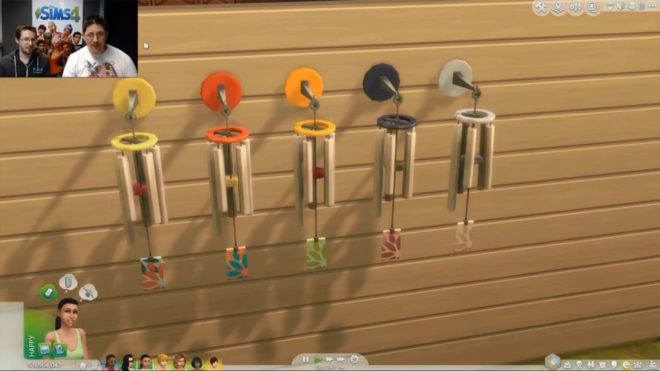 You can use wind chimes to add some ambient sounds around the house. These can be placed indoors and outdoors, either from the ceiling or on the sides of a wall. When you change its pitch, the length of the chime adjusts to match the selected tone. If you want a completely different sound, you'll have the option to purchase ceramic, aluminum, or bamboo chimes.
Sims can also be awakened by the wind chimes if they sleep too close to them. But if the chimes becomes too annoying, you can click click a button to turn them off.
Wind chime settings and sequences will be transferred along with the house when uploaded to the Gallery.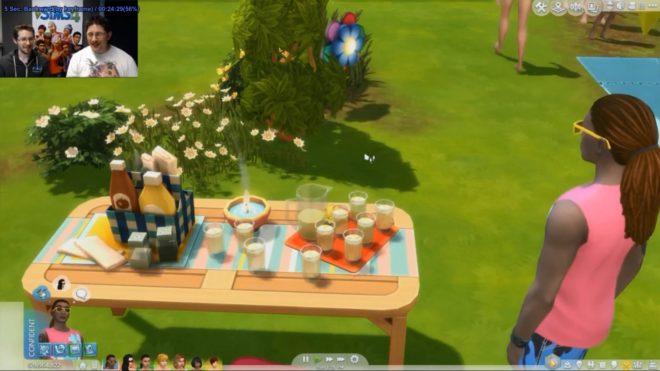 You can mix up a batch of Iced Tea, Lemonade, or Citrus Swig, from the "Summer Drink Tray". Mixing a drink serves up six glasses of refreshments which can be refilled at any time.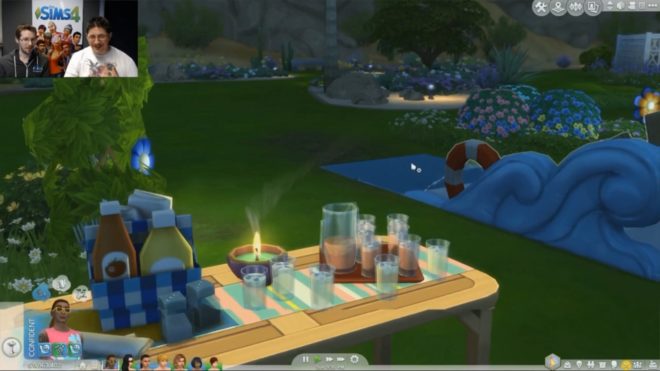 At night, you can add some ambience to your backyard by purchasing a citronella candle. In addition, the "Flower Power" decoration will act as a light when night begins to fall.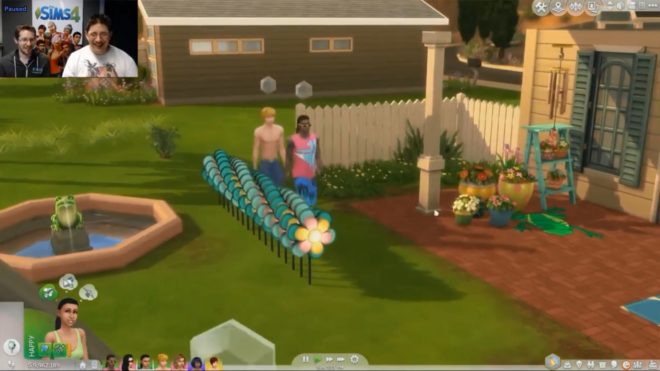 Speaking of which, each instance of the "Flower Power" object has a slight offset which creates a pattern when placed in a row. If your sims stare into the object, there's a chance they'll receive a Dazed moodlet.
Questions and Answers
How many different types of birds are there?
We have blue birds, finches, and cardinals. Birds do not show up at night however.
If you fail to pay your bills and the water is shut off, can you still use the water slide?
Do Wind chimes work indoors?
Will the hygiene bar raise when using the water slide?
No, you neither gain nor lose hygiene from the water slide.
Can we place the Water Slide on pool lots?
Absolutely! They can be placed on any lot.
Does Backyard Stuff come with new recipes and food?
Aside from the Summer drink tray, there will be no new recipes from the stove.
Will the new round tables work in restaurants?
Yes, they work like any other table.
Can ghosts and aliens use the water slide?
Yes, all sims kids and up can use the water slide.
Can you gain fitness skill from the water slide?
Yes, you'll gain fitness skill for adults, and motor skills for kids.
Can Elders die from the water slide?
Not from direct use of the object.
Are there any new Club rules for the water slide?
Yes, if you have Sims 4: Get Together, there will be new club rules that either encourage or discourage use of the water slide.
Can the citronella candle catch on fire?
No, it only provides a warm glow.
Are there any new radio stations in Backyard Stuff pack?
No. However, we do have a new outdoor speaker.