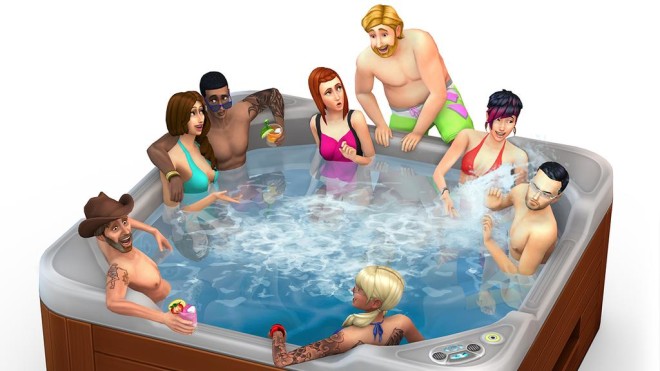 The Sims 4 Perfect Patio Stuff Pack has been announced for release next week! This new stuff pack will include new objects for your patio and outdoor spaces! After all the busier expansions and packs, it's about time your Sims got a chance to kick back a little. This pack will come with new hairstyles, swimsuits, a fancy new grill, and the ever-desired hot tub!
Two types of above ground hot tubs will be included in this stuff pack; A wood polymer hot tub, and a much more expensive stone tub. Up to eight Sims can join in on the hot tub fun at the same time, including children! Sims looking for some "intimate" time can shoo away unwanted guests for a private WooHoo session. Handy Sims can upgrade the hot tubs with soothing aromatherapy and stereo enhancements.
.@SimCitizenKen Funny you should ask – there's a new Backyard radio station included in #TheSims4 Perfect Patio Stuff!

— Graham Nardone (@SimGuruGraham) June 10, 2015
SimGuruGraham confirmed via Twitter that there will also be a new Backyard radio station for all those lazy afternoons. Please stay tuned for next week when we learn more!