DJ Mixing Skill
As a DJ, your sole responsibility is to keep the party pumping with the hottest tunes across every genre. But the only way to reach max stardom is to practice on the turntable. The Sims 4: Get Together provides aspiring DJs a plethora of DJ Booths which can be upgraded to create an even more spectacular event.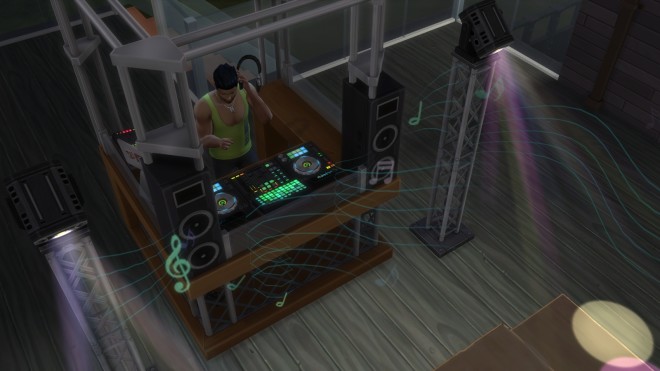 Obviously, your first order of business is to purchase a DJ Booth. As your sim practices on the turntables, they'll unlock new music genres and upgrades for the DJ Booth.
Skill Level

Genre Unlocked

Extra Notes

1

 Groovin'

—

2

Machine

Allows Sim to Switch Genres

3

Chip Tune

Allows Sim to Discuss DJ Techniques

4

Chill Out

—

5

Breakbeats

—

6

Remix

Unlocks upgrades to DJ Booth

Enables "Get Hyped" interaction to draw onlooking Sims to the audience

Dynamic Surge Protection prevents the DJ Booth from breaking.

Advanced Heat-Sink prevents the DJ Booth from catching on fire.

7 

House

 

Enables More DJ Booth Upgrades.

Particle Generators enables visual effects from the DJ Booth

Plasma Display adds a monitor to the DJ Booth

8

Hip Hop

Unlocks Telesplosion Upgrade.

Allows Creation of Mixtape "Mix O Lot"

The Wireless Display Override allows Telesplosion to take control of nearby video monitors.

9

Drum n Bass

Unlocks Mixtapes "Wiky Wiky" & "Scratch n Switch"

10

Noise

Unlocks "Set the Mood"

Unlocks Robo Helmet in CAS

Unlocks "Digital Era," "Party Hardy," & "Party Hardy" Mixtapes

DJ Booths first become upgradedable when the DJ Mixing skill reaches level 6. These upgrades require your Sim to have a certain amount of Common and Electronic upgrade parts. A quick way to gather these items is to have a Sim with a high level handiness skill buy the parts from a computer. From here you can ferry these parts over to the DJing Sim to let them upgrade the DJ Booth. 
At level 7, you'll gain access to the particle generator and plasma display upgrade. Once implemented, the Particle Generator's effects can be toggled through the [Control Panel] button on the DJ booth.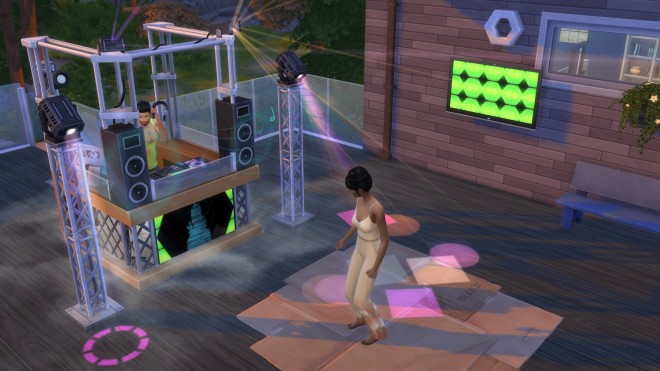 One other interesting upgrade is the "Telesplosion" effect. This upgrade displays looping animations on TV screens nearby. Unfortunately these animations do not sync up well with the video shown on the DJ booth.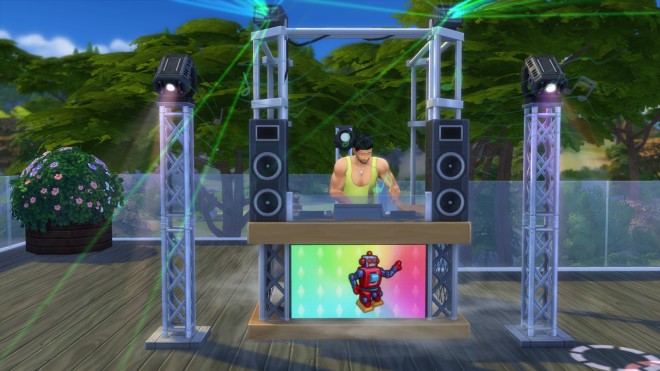 At level 8, DJs will be allowed to create their own custom mixes. These mixes take pretty much the entire day to create. But once it's completed, you can name the mix and play it during parties or gain royalties from licensing the mix at the mailbox.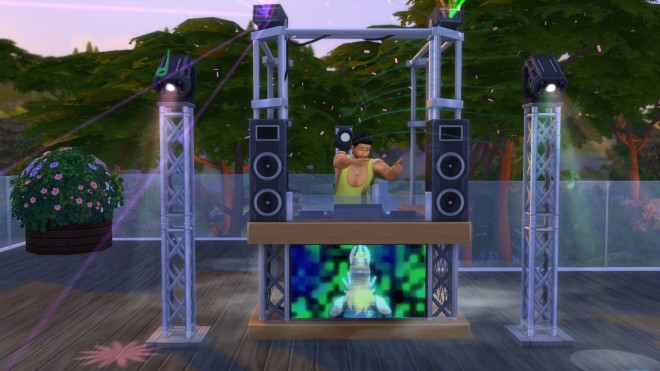 "Get Hyped," and "Feel the Crowd," are two interactions you can perform to the audience at the DJ Booth. The former draws onlookers into the audience, while the latter attempts to change the mood of the crowd. There's only four moods to choose from: confident, flirty, dazed, and energetic.  Choose wisely, as initiating this action will disable it for a period of time.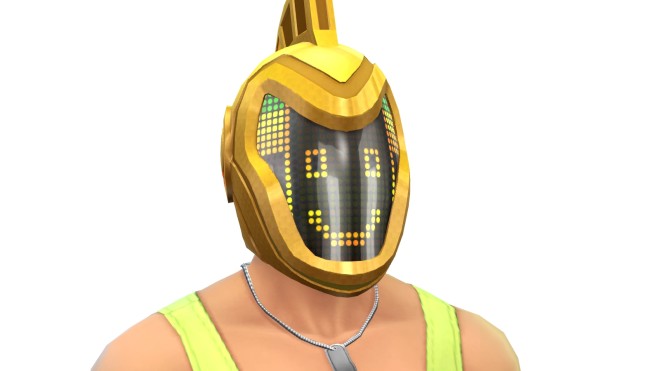 | | |
| --- | --- |
| Cheat Name | Cheat Code |
| DJ Mixing Skill | stats.set_skill_level Major_DJ 10 |
Dancing Skill
Unlike the DJing skill, the Dancing skill caps off at level 5. As your Sim levels up, they'll gain new dance moves they can perform alone or with a group! This skill is incredibly easy to level up. In fact, making everyone dance together in a group is a surefire way to max out their skill levels.
Sims can practice dance moves at a stereo, DJ booth, full-length mirror, or on a dance floor.
| | | | |
| --- | --- | --- | --- |
| Skill Level | Solo Moves Unlocked | Choreographed Moves Unlocked | Extra Notes |
| 1 | Arm Charm | One' Two' Steppin' | — |
| 2 | Pump-Pop | Boogie Down Woogie | Let's Sim discuss Dance Techniques with others. |
| 3 | Jimmy Leg | Break it Down | Portable Dance Floor is sent to Sim's inventory. |
| 4 | Light Spin | Spin, Snap, Swag | — |
| 5 | Back Flip | Lean Back | Acquires Retro Sneakers in CAS |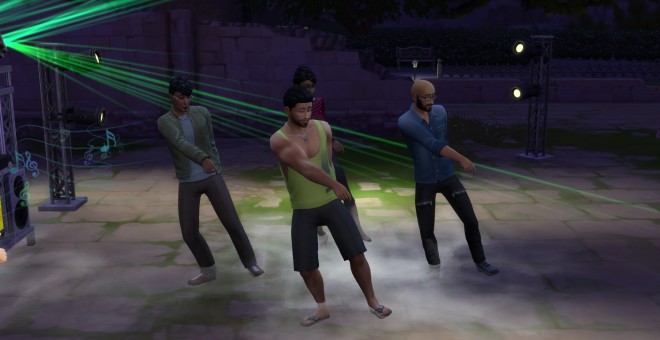 All dance moves, whether solo or in a group, must be performed on a dance floor. At the start of the routine, your Sim will begin to shoo away nearby sims. While performing their moves, there's a slight chance they mess up and even sit out the rest of the performance.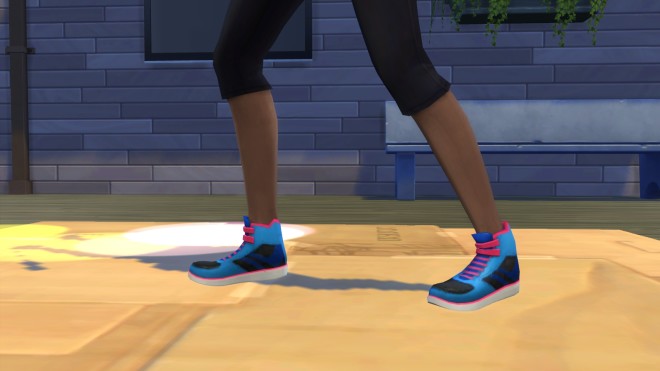 Sims will unlock the Portable Dance Mat and Retro Sneakers as they progress through the skill. The portable dance mat is reminiscent to those old cardboard mats used in the breakdancing scene in the 80's.
| | |
| --- | --- |
| Cheat Name | Cheat Code |
| Dancing Skill | stats.set_skill_level Minor_Dancing 5 |