Thumbnail View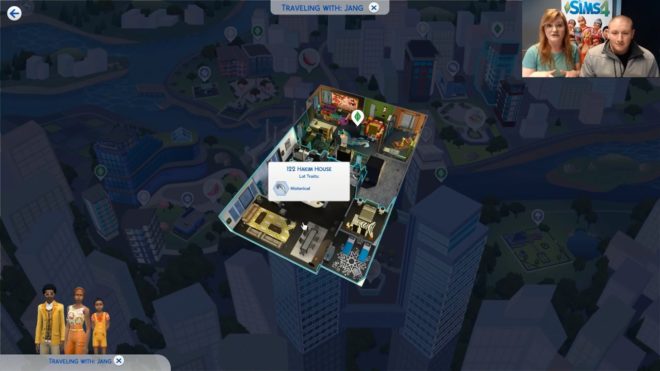 It could get quite troublesome having to navigate through several units in an apartment complex. To help alleviate this issue, The Sims team has added a thumbnail view. With this, you can hover over each apartment unit to view its traits and household details.
Multi Story Apartments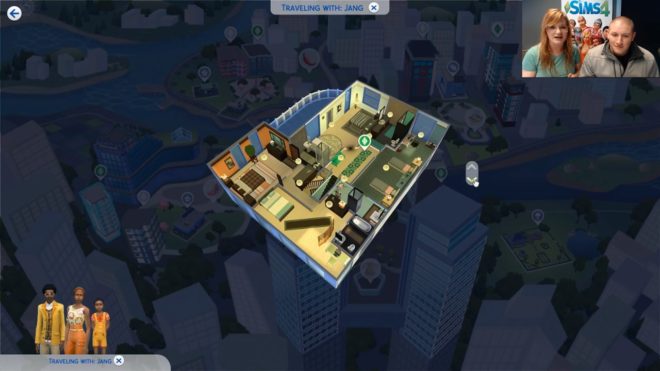 Some apartment units can have up to two or three floors. You can page through each floor in thumbnail view to get a glimpse of its entire layout.
MyShuno Meadows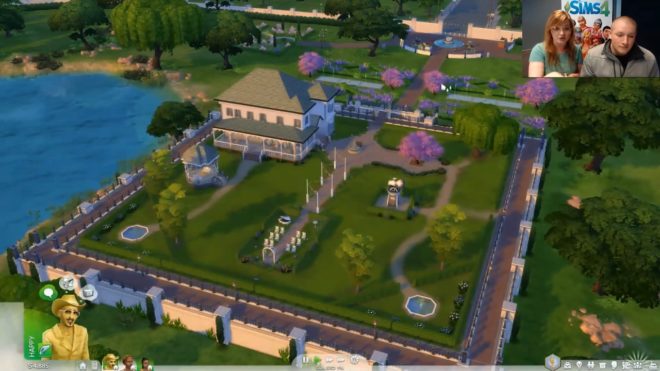 Myshuno Meadows is a special 64 x 64 lot that, for the first time, includes an actual pre-made wedding aisle. Fireworks placed close to the wedding arch will go off right as the newlyweds kiss!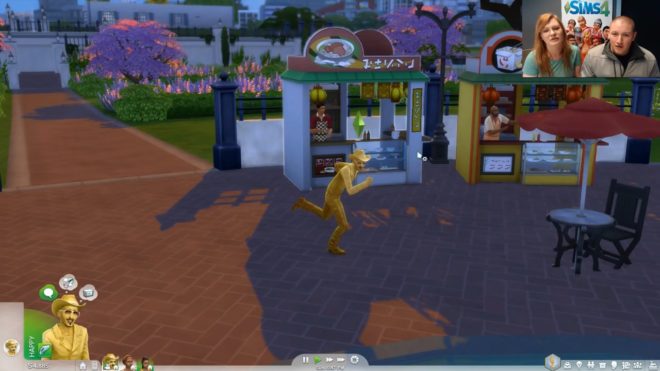 If you head a bit away from this venue, you'll encounter a dining area with a Ramen and Chinese Food cart. Sims can try haggling for lower prices at these stalls.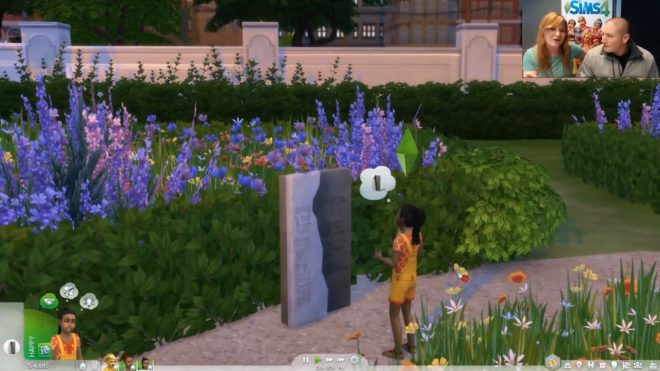 Next to the dining area is a butterfly garden with several memorials scattered about. Each memorial contains little tidbits on the history of San Myshuno.
New Fashion
With designs inspired by Japan and India, City Living aims to provide a range of attire meant to depict a city's melting pot of cultures. New to this expansion are head wraps that cover a range of patterns and colors. 
Men will receive the man bun hairstyle prominently featured in recent trailers. Snakeskin pants and leather jackets are only a small sample of what's to expect from the pack.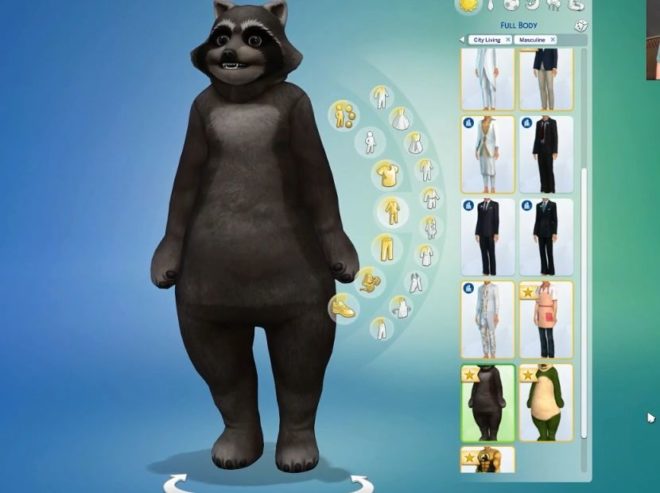 Acting as a public servant, an NPC wearing this racoon suit will clean up trash Sims have lying around.
City Native Aspiration
A brand new aspiration will help Sims discover all the sights and sounds around San Myshuno. Sims following this track will visit festivals, paint murals, and critique various things.
A New Type of Death
Sims can experience a new form of death if they eat a low quality pufferfish from one of the food carts.
Basketball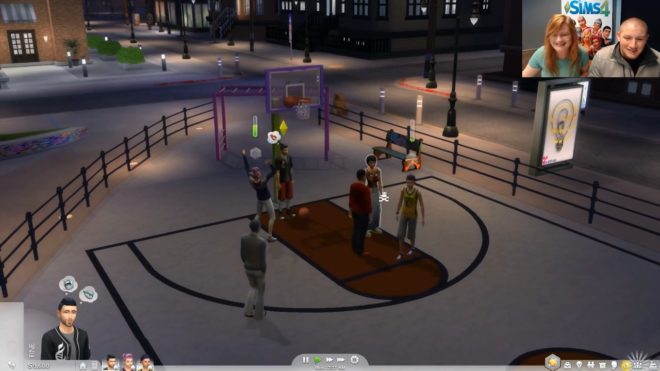 Basketball has been improved since the previous Sim games. This object will now allow several Sims to shoot hoops at the same time. The basketball hoop is separated from the court itself allowing Sims to play basketball in tight spaces. The expansion will ship with two types of hoops, one free standing, and another that attaches to a wall.
Dynamic Neighborhood Changes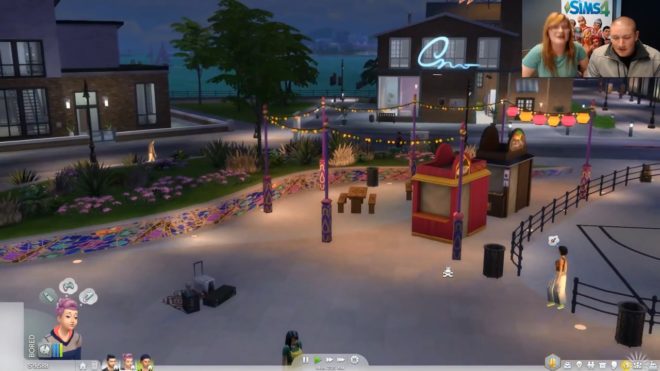 Open spaces around the neighborhood can dynamically change with the addition of Food Carts. Some stalls may close for the night, while other will open with new seating areas and decorative lights.
The Uptown District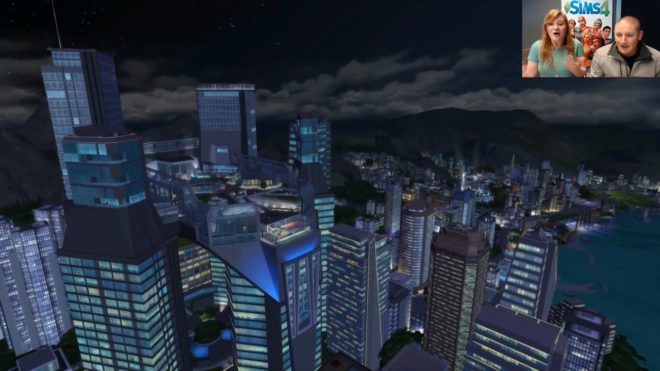 We've finally gotten a peek at the last neighborhood in San Myshuno. The Uptown district is placed atop several sky scrapers giving you the best view of the city. This district is home to Skye Fitness and the Star Gazer's lounge. The latter is actually a penthouse with a pool and the romantic aura lot trait. 
Dynamic Signboards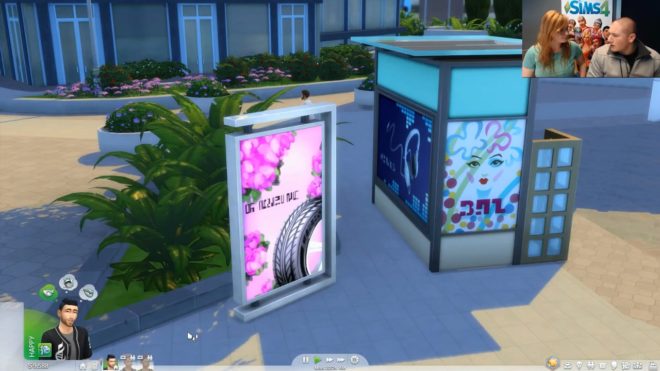 Not only will you be notified in-game of the various festivals, but the dynamic signboard when placed on your lot can display advertisements of upcoming festivals.
Wall and Floor Mural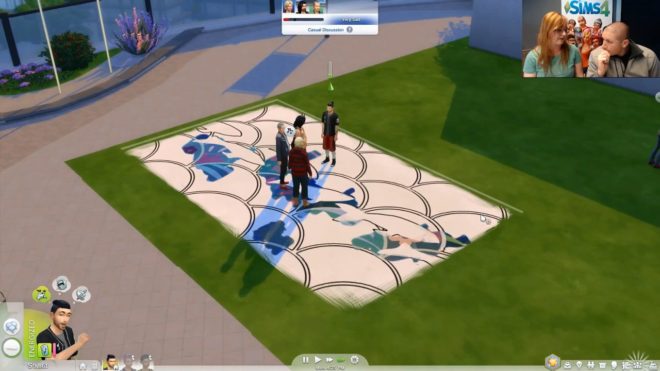 You can place murals on the walls and floors and have your Sims paint graffiti, cultural, or political artwork. These objects can be resized in build mode, and the artwork will scale to match the new dimensions.