San Myshuno is divided into four neighborhoods, each inspired by different cultures ranging from Indian and Arab, to Japanese and African. The festivals found in these districts are meant to represent the melting pot of cultures that one might find in a city.
Spice Market
First we start off with the Spice Market that was prominently shown in the recent Sims livestream. It's full of brownstone apartments with hints of visual elements inspired by India.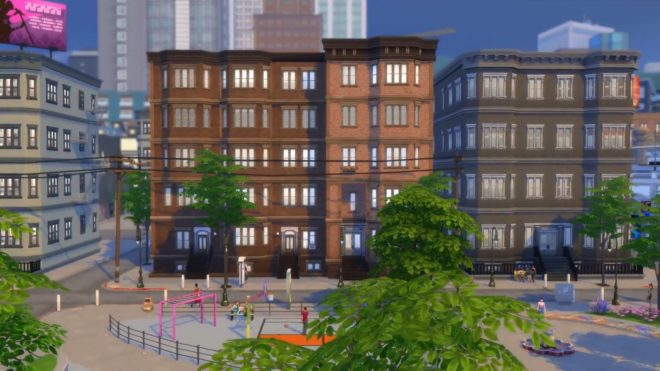 This will be the neighborhood your Sims will first move into. Nestled between the streets and basketball court is the Spice Festival, giving your Sims the chance to try out foods from different cultures.
The Arts Quarter
The Arts Quarter features apartments with a modern design. Starving artists young and old can be found near the food stands trying to make a quick buck.
Here you can find the Art Museum inspired by the Yuerba Buena Center of San Francisco. This neighborhood is also home to the Lantern Festival, giving Sims the opportunity to view fireworks across the sky.
The Fashion District
Some of the best views of the city will be offered here at the Fashion District. Featuring a community space several stories from the ground, this neighborhood will be home to both GeekCon and Romance festivals.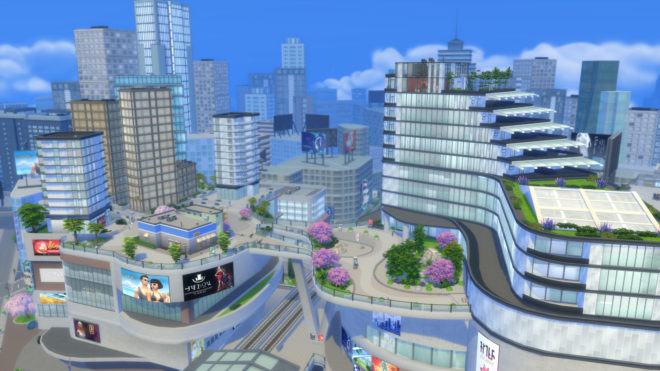 Star hopefuls in San Myshuno will love Planet Sing-Pop, a new venue where sims can stretch their vocal chords in the all-new Karaoke bar.
Uptown
The last of the neighborhoods is Uptown, a high rise financial district where the wealthiest of Sims can meet up at a lounge high above the city.  Unfortunately this neighborhood appears to be under wraps at the moment, so hopefully we'll get a glimpse of it in the upcoming weeks.