The Sims 4 received a big reveal at EA's 2015 Gamescom conference with the announcement of the Get Together expansion pack! Slated for a November release, this brand new expansion is all about gathering your Sims and their friends together and hanging out in the all-new world of Windenburg!
This European themed world is full of fun and exciting group activities. Head to the pub for a pint of juice and a round of foosball, or over to the discotheque to try out some sick new dance moves against the DJ's beats. Your Sims can join or create Clubs, which vary depending on the members' interests, personalities, and behaviors.
 Key Features
A selection of new hairstyles and clothing.
Learn and level up the new DJ and Dancing skills.
New objects like a bonfire, DJ booth, foosball table, and a walk-in closet.
New interactions, including cheers, fire dancing, backflips, and walk-in closet WooHoo.
New places to explore: a hedge maze, the mysterious ruins, a luxurious island, and natural pools!
Locations
Pub
Ancient Ruins
Underground Disco
Hedge Maze Garden
New Objects
Walk-in Closet
Natural Pools
New Interactions
Kids can play in the closet.
New romance interactions.
You can hire a barista.
Interaction menu for "clubs" (see below)
Social Clubs (A Group of Sims)
You can group up with a bunch of Sims to form a club.
Each social club has their own interests, personality, and style.
You can set their dress codes, behaviors, where they hang out.
Members will walk together doing what the leader does.
You can makeover Sims in your social club with the Walk-in Closet.
Natural Pools
Natural Pools resemble lakes that your Sims can swim in.
Other tidbits
The ruins have lots and public spaces.
New 64 x 64 lot sizes.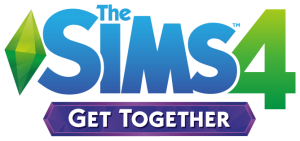 The Sims 4 Get Together expansion pack is available for pre-order right now on Origin!