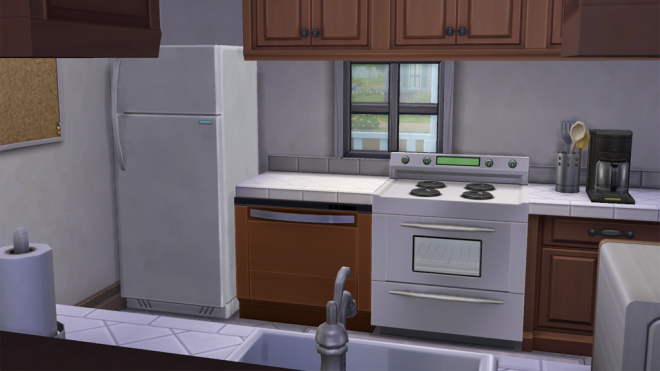 Another highly requested feature of past Sims games has been fulfilled with the addition of dishwashers in today's Sims 4 patch! The update only includes one dishwasher type, though perhaps we'll see more in the Cool Kitchen Stuff pack. The Professional Dish Laborer is available in nine color variations and can be found under kitchen appliances. Just place it inside a counter and you'll be ready to start a load!
One handy function of the dishwasher is the Load Dishwasher interaction. Your Sim will collect all the dirty dishes in the house, assuming there are any, and load them into the dishwasher. Speaking of handiness, with a skill level of 7 and the right parts you can upgrade the dishwasher in several ways.
Increase Cleaning Speed
Make Extra Reliable
Make Unbreakable
Make Run Quieter
Aside from the dishwasher, a number of adjustments and bug fixes were made to the game. First off, you may notice that the appearance of cereal has changed, now sporting a more vibrant and pleasant texture. Mail can now be delivered to the active household while visiting a different lot. And finally, custom music tracks will now actually play!
If you weren't aware already, you can add custom tracks to the game through the Sims 4 folder in Documents. Just drag and drop your track into one of the stations in the Custom Music folder.
To see what else was included with this patch, please visit the patch notes page here or on the Sims 4 forums.