The Spa Day game pack for The Sims 4 is out now on Origin! Purchase a copy and take a load off with your Sims at the new Spa venue.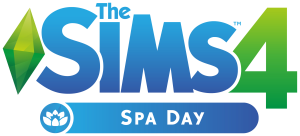 Key Features
A new Spa venue type, featuring a sauna.
The new Wellness skill, improved with yoga, meditation, and massages.
New objects, including the massage chair, mud bath, and aquarium.
The New Age radio station.
We'll be covering all of the new content, starting with articles on the new Create a Sim content and objects in the Build catalog. Come back soon to see our coverage, and check out our introduction in the meantime for more information.